Update 16 July 2021
England will be moving to Step 4 on 19-7-2021. Covid mitigation measures will remain unchanged at Action21, as per the government's advice on preventing transmission of the virus. The following is the explanation of these measures, written just after the first lockdown:
Just over a month on from re-opening our Re-Useful Centre after the first UK lockdown to slow the spread of the coronavirus, we are happy that the shop and our customers can continue to do their bit to reduce waste and the amount of stuff that ends up in landfill.
With the safety of our staff and customers in mind, the shop was proactive with measures to prevent the spread of the virus and often recommendations from the government followed actions that we had already taken! Taking precautions enabled us to reopen and operate with confidence and we are very grateful for all the support that we have had from people making donations or visiting the shop. This makes all the difference. Sometimes people are not quite sure why we have changed the way we do things and if they ask, we are happy to explain. This blog post outlines what we are doing and why.
Risk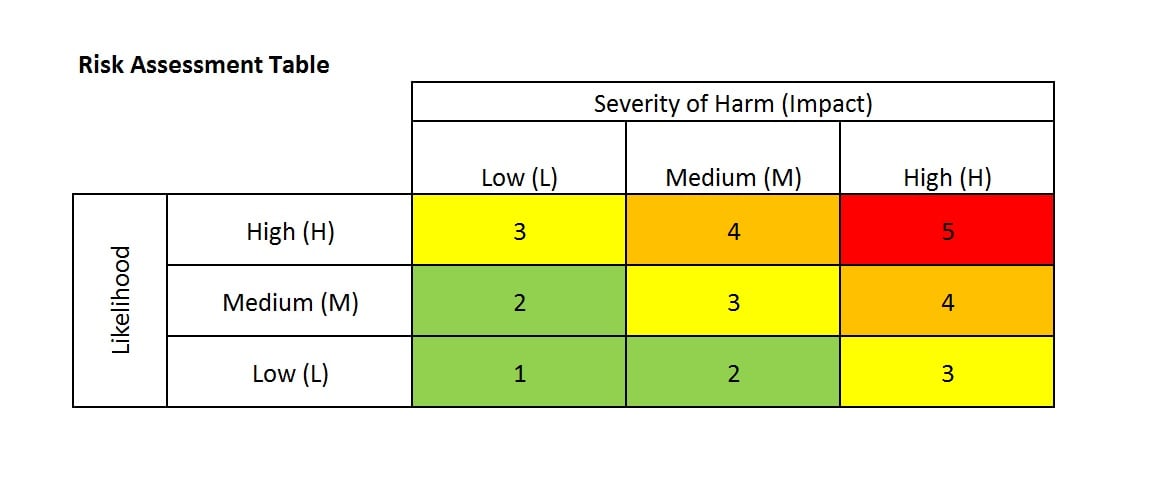 When considering any risk we weigh up two different aspects: the likelihood of something happening and how bad it is if it does happen. This helps us to make decisions about what to do to reduce it. In the case of Covid-19, the risk in terms of likelihood and severity changes with time and from person to person. As the virus spreads in a population, the chance of catching it increases, but we also know that how badly a person is affected can vary. Sometimes the illness is mild for an individual but it can be life-changing or, as we are sadly too aware, fatal, as it has been for some 40,000 people in the UK so far and over a million worldwide. To put that in perspective, based on Public Health England data, deaths from 'Flu have averaged out at around 15,000 per year over the last few years. Then there are also the wider consequences of a continued pandemic in terms of the impact on our daily lives, pressure on the NHS, our work and the economy.
Since re-opening, Action21 Re-useful Centre has taken the approach that the safety of our customers and staff is paramount and that we should make a concerted effort to considerably reduce the risk of catching and spreading Covid and making the Re-Useful Centre as safe as possible.
The WHO produced a handy infographic to help people understand the risks of indoor settings, based on the 'Three 'C's':
Crowded Places
Close Contact
Confined Spaces
Action-21 has addressed all of these issues in the following ways:
Crowded Places

Making room
Before re-opening after the lock-down, we were busy reorganising the shop so that customers and staff would be able to avoid being in close quarters with each other. For a respiratory virus like the coronavirus, avoiding contact with lots of people is one of the most important ways of reducing transmission. At the shop, we made room for this by broadening the aisles and opening up the spaces inside.
Limiting numbers
We are fortunate at the Re-Useful Centre that we have a large, open space that will not easily become crowded. However, we also have a maximum number policy and in addition, have changed some of our practices to avoid having too many people at the shop at any time, for example our booking system for donations.
Action 21 Re-Useful Centre depends on the generous donations of the public. We have always had a brilliant response from the local community and this has meant in the past that we have often had many people to deal with at the same time. For our customers' safety, both avoiding too many people waiting and also allowing our staff to deal properly with donations, we implemented a booking system in much the same way as the local waste-handling centre in Leamington. Although this may mean donors needing to hold on to items until they can be brought in, the system has worked very well and people have told us that they appreciate having a specific time and knowing that they are expected at the shop. Initially limited to just two donations a day, we quickly increased this to 4 and then 6 as we saw how many we could accommodate. Booking also allows the shop to screen for things that we can no longer accept such as large items of furniture which take up space and which would need delivery or collection.
Close Contact
Physical Distancing
Signs in the shop remind people about safe practices in physical distancing. We request that everyone maintains a minimum 2-metre distance from each other, as per government guidelines, although the greater the distance between individuals, the lower the chances of spreading the disease.
A one-way system enables people to avoid passing each other at close quarters in the aisles.
Confined Spaces
Some of the data from scientific investigations on the spread of coronavirus has shown that confined spaces have played a significant role in what are known as 'super spreading events' where many people have become infected at one venue. This is likely due to the virus being able to remain suspended in aerosol (fine particles of water), for quite a long time where there is limited recycling of air. For the virus to be dispersed, there must be sufficient movement and replacing of the air, which is why outdoor settings have shown lower transmission. At the Re-Useful Centre we have addressed this by keeping doors open in several locations, enabling the air inside to move and be replaced by fresh air from outside.
In addition to the WHO, 3 'C's, we have some 'C's of our own!
Contaminated Surfaces
Covered Faces
Consistency
Contaminated Surfaces
Washing, Sterilising and Quarantine
Although the data shows that transmission of coronavirus is far more likely through close contact with an infected person, coughing, talking or singing, there is a lower but possible risk through contaminated surfaces. This is why people have been told to wash their hands and to sanitise shared items such as trolleys in the supermarket. At the Re-Useful Centre, we receive items from people's houses and are rigorous in ensuring that they are free from the virus before they go on sale in the shop. All items that can be, such as plastic and metal, are washed in soapy water or wiped down with bleach. Donations which cannot be sterilised in this way, like fabric, are put in 'quarantine' for three days.
Occasionally people are keen to purchase an item that they see newly-donated, and sometimes tell us that our precautions are excessive. However, we prefer to take the view that we should reduce the risk to customers as much as possible and ensure that the items we sell are clean and free from contamination.
Customers are also asked to use hand gel provided in the shop, to avoid potentially contaminating things as they browse.
Cleaning the Shop
In addition to making sure that donated items are safe, we have also taken on a new employee to clean and decontaminate the shop daily.
Covered Faces
Before masks were mandated in shops, we included them in our risk-assessment. We understood that people are most likely to become infected by someone nearby who has the virus and passes it on through droplet and aerosol, from their respiratory system into the air. Masks which cover the nose and mouth, help to reduce this by trapping particles and slowing the speed of expelled air. While screens have some effect in stopping direct contamination through droplets, they are not particularly effective on their own. To keep our customers and staff as safe as possible, we ask that everyone inside the shop be masked and we are grateful to all our customers for their cooperation in this.
Consistency
In spite of the many warnings that we might become blasé about the virus, recent research has shown that contrary to expectations, people have not become more complacent over time. However we are still conscious that we need to maintain good, safe practice, even if it threatens to become boring or annoying! Consistency is important because any drop in standards could be the opportunity the virus can exploit to spread from one person to another. None of the procedures on their own are 100% effective, but when consistently applied, they can considerably reduce the risk of transmission of this nasty virus. This is sometimes referred to as the 'Swiss Cheese Model'
We would like to thank all our customers and donors. Without your support and cooperation, we would not be able to continue to run the shop in a safe way and we look forward to a future where some of the new practices we have put in place will no longer been seen to be so necessary.
We would also like to reiterate our thanks to Heart of England for helping us to 'do things differently'. Their grant of £3,500 is helping to cover the cost of PPE and hand sanitisers.
J Nickels